Sofia Inna left her home in Ukraine when she was 20 years old. The motivation behind leaving Ukraine were family reasons, desire to become independent and to make more money. She spent 10 years abroad in various countries but most of the time she lived in Slovakia where she managed to work as an occasional helper.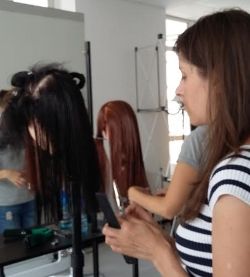 In her difficult personal situation Sofia decided to return to Ukraine and start her life from the beginning. For serious reasons she decided to return to Kiev, although she did not have any relatives or friends there.
Sofia contacted IOM in Slovakia which immediatelly offered her assistance – till her departure from Slovakia IOM has provided her with safe shelter, basic food, counselling and in coordination with IOM Kiev prepared and carried out her return.
Right after her return to Ukraine Sofia turned to IOM office in Kiev and in cooperation with IOM staff started to actively look for accommodation, job and obtaining new identity documents as the old ones were destroyed. Within the reintegration assistance IOM supported the returnee with the vocational training which should help her to improve her qualification, find a job and become self-sufficient. Sofia has chosen a hairdressing course which she started to attend already one month after her return thanks to her pro-active approach.
Furthermore, IOM provided her with temporary accommodation, supported her with acquiring new forms of identification, purchased study materials and reimbursed the trasportation costs related to the course, so she can fully concentrate on the successful completion of the course and search for a job.
Learn more about how IOM helps migrants before and after their return home from Slovakia: www.avr.iom.sk.
(Names of persons have been published with their consent. / Names were changed for protection reasons.)



Voluntary Return and Reintegration in Country of Origin (Individual Project). This project is co-funded by the European Union from the Asylum, Migration and Integration Fund (AMIF). Home Affairs Funds.