In 2018, IOM assisted 80 foreigners with their voluntary return to 21 countries of origin. The IOM Migration Information Center provided 4,550 clients with 6,763 consultations about important areas of life in Slovakia, and IOM lecturers trained another 96 professionals in the field of human trafficking prevention.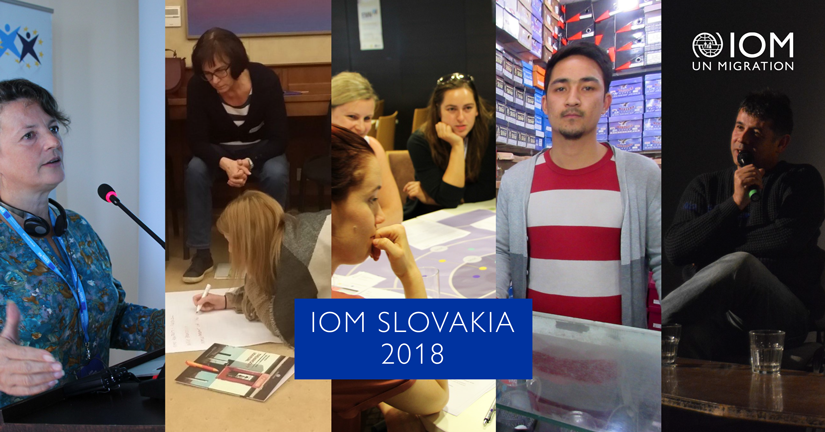 Migrant Integration – IOM Migration Information Centre (MIC)
In 2018 MIC in Bratislava and Košice provided 6,763 personal, telephone or e-mail consultations on residence, family, employment, business, education or citizenship in the Slovak Republic. The MIC services were used by a total of 4,550 beneficiaries mostly from Ukraine, the Russian Federation, Serbia, India, Iran and the United States.
The MIC website www.mic.iom.sk is a unique source of legislative and practical information for foreigners about important aspects of life in Slovakia. Information on the website is available in Slovak, English and in Russian language. In 2018 the MIC website recorded 216 083 visitors.
In 2018 services of the Visa Check web application had been used by 3, 392 persons from 159 countries. This application provides information to foreigners from any country of the world who plan to come to Slovakia and who need to check whether they need visa in order to enter the country and what kind of residence permit is required if they want to study, work or do business in Slovakia.
MIC also supports foreigners in their integration into the labour market in Slovakia. In 2018 MIC consultants provided counselling to 368 beneficiaries in order to help them with orientation in the labour market, preparation of their CV and for a job interview, communication with employers, job search or job referral. Further 50 clients, thanks to financial support provided by MIC, completed retraining courses which will increase their chances to get a job at the Slovak labour market.
Following more than six years of successful implementation of the One-Stop Shop Counselling Days which took place in the IOM premises, in 2018 IOM introduced a pilot phase of four One-Stop Shops organised in the premises of the Foreign Police Department, Bratislava. Counselling sessions with the direct involvement of state and public institutions´ representatives from the Foreign Police Department, Labour Office, Trade Licencing Office and MIC consultants were attended by more than 80 visitors.
In 2018 MIC continued to organise free Open Slovak Language Courses for Foreigners. The courses were attended by a total of 2,103 participants in Bratislava and Košice. The courses of socio-cultural orientation, which help foreigners to orientate in important areas of life in Slovakia, were attended by 214 participants.
In 2018 the IOM Migration Information Centre updated and published a booklet entitled Welcome to Slovakia. This booklet is available in Slovak, English and Russian and it contains basic information regarding the residence and the employment of third country nationals, information about the education system, health care, social security and other important domains of life in Slovakia
In 2018 MIC also published Fact Sheets on residence of foreigners in Slovakia including up-to-date information on how to proceed when applying for a residence permit and obligations arising from different types of temporary and permanent residence of foreigners in Slovakia.
The MIC staff continued to provide expert consultations during trainings for consular officers who were appointed to work at the embassies of the Slovak Republic abroad. These trainings took place at the training centre of the Ministry of Foreign and European Affairs of the Slovak Republic
The MIC cooperates with 15 cultural mediators – representatives of communities of foreigners in Slovakia. In 2018 MIC together with cultural mediators organized 15 Welcoming Slovakia information meetings for more than 493 participants. At these meetings, foreigners get practical and useful information about life in Slovakia.
In October 2018 MIC organized 2 regional information workshops We Are Also At Home Here which took place in Žilina and Trnava. Visitors of these workshops had a chance to engage in discussions with foreigners on various topics, to watch short film stories of other foreigners to see a photo exhibition or to taste gourmet specialties from Central Asia through which they had a chance to learn more about life and culture of foreigners living in Slovakia.
In 2018 the MIC also continuously provided counselling to unaccompanied minors in the facilities of the Social and Legal Protection of Children. These services included, in particular, Slovak language courses and individual legal counselling.
The MIC is the counselling centre of the International Organization for Migration (IOM). Since 2006, it has been providing foreigners with services helping them with social, economic and cultural integration in Slovakia. It provides a comprehensive integration, social and vocational counselling to foreigners, promotes their inclusion into the labour market, organizes Open Slovak Language Courses and courses of social and cultural orientation, provides them with important information about life in Slovakia, and supports the community life of foreigners.
For more information visit: www.mic.iom.sk.

Migration Information Centre to Support Integration of Migrants in Slovakia (phase IX, Individual Project). This project is co-funded by the European Union from the Asylum, Migration and Integration Fund (AMIF). Home Affairs Funds.
Assisted Voluntary Returns and Reintegrations
In 2018 IOM assisted a total of 80 individuals with their voluntary return from Slovakia to 21 countries of origin. Most returnees were headed to Vietnam (17), Ukraine (14), Azerbaijan (8) and to Iraq (7).
IOM provided reintegration assistance to cover basic needs and provide for livelihoods after returning home to 34 individuals and families in 15 countries - Azerbaijan, China, Georgia, Iraq, Macedonia, Moldova, Pakistan, Serbia, Turkey, Ukraine and Vietnam. For the first time, IOM supported the reintegration of foreigners following their return to Bosnia and Herzegovina, Ethiopia, Gambia and Tunisia. In particular, migrants used the assistance to set up small business activities, to reconstruct their houses, to arrange temporary accommodation, to improve their education or to combine several types of assistance.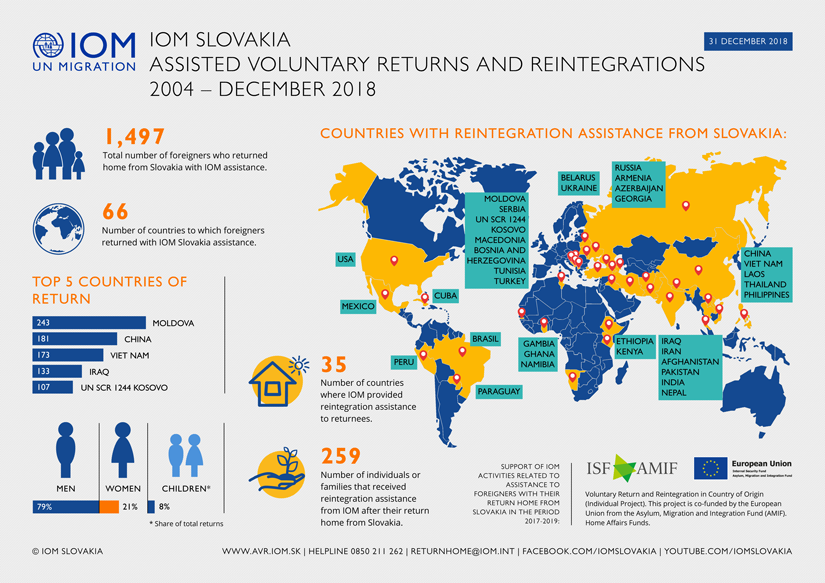 Read more: Statistics of AVRR programme since 2004.
Within the framework of the Assisted Voluntary Returns and Reintegrations Programme (AVRR), IOM helps foreigners who are not allowed to reside in Slovakia and who cannot or do not want to stay here.
As a part of the AVRR programme, migrants can benefit from various services provided by IOM: counselling and preparation of return, assistance with arranging of travel documents, provision of travel tickets, temporary accommodation, food, clothing and healthcare until the date of departure. During the return procedure, IOM assists foreigners with transportation in Slovakia, at the airport during departure and during transfers and, if necessary, with transportation following return home.
An important part of the programme is reintegration assistance provided to migrants, which they can use to stabilize their situation and improve their living conditions after returning home.
For more information visit: www.avr.iom.sk.

Voluntary Return and Reintegration in Country of Origin (Individual Project). The project is co-funded by the European Union from the Asylum, Migration and Integration Fund (AMIF). Home Affairs Funds.
Counter-trafficking
In 2018, IOM operated its information phone line on trafficking in human beings and safe travel. Its staff responded to inquires via phone, emails, and in person from people interested in issues concerning trafficking in human beings and requests for verification of job agencies. In two cases, IOM staff identified a suspision on human trafficking, which were further referred to the Information Centre for Combating Trafficking in Human Beings and for Crime Prevention of the Ministry of the Interior of the Slovak Republic.
In March 2018, in Trnava, Liptovský Mikuláš, Piešťany, Poprad and Banská Bystrica, IOM conducted five basic and follow-up trainings of trainers. IOM trained another 96 professional practicioners who are working with vulnerable groups of population. As a result, thanks to knowledge gained from trainings, the Training Manual on Prevention of Trafficking in Human Beings, and the mobile application SAFE Travel & Work Abroad, preventionists from the police corps, social workers, EURES advisers, employees of orphanages, Centers of Pedagogical and Psychological Counseling and Prevention, and other professionals from different parts of Slovakia will be able tocarry out the prevention activites in the field of human trafficking both in individual and group forms.
In 2018, IOM has released an updated Training Manual on Prevention of Trafficking in Human Beings. In addition, IOM updated the mobile application SAFE which is available for free on the Google Play, on the App Store, and at www.safe.iom.sk.
Over the course of the year, through media and social networks, IOM conducted an information campaign to raise public awareness of the mobile application SAFE and its use for safe travel and work abroad.
IOM in Slovakia conducts various prevention activities and information campaigns on trafficking in human beings, educates and builds the capacities of government experts and helping organizations in the field of prevention, identification of victims and care for victims of trafficking in human beings. IOM also prepares information and educational materials for teachers, lecturers, preventionists and other professionals.
For more information visit:
IOM Activities in Counter-Trafficking in Human Beings
www.bezpecnecestovanie.iom.sk
www.safe.iom.sk

In 2018, IOM's educational activities in the field of preventing trafficking in human beings were financed by the Ministry of the Interior of the Slovak Republic, which acts as a coordinating body for comprehensive care provided to victims of trafficking.
Activities of the European Migration Network (EMN)
In 2018 EMN published Annual Report on Migration and Asylum in the Slovak Republic in 2017 and also published the following studies in the form of publications:
In 2018 EMN in Slovakia also prepared studies that were published in synthesis reports:
EMN was working on four other studies in 2018, which will be published in the first half of 2019:
Labour Market Integration of Third-Country Nationals in EU Member States
Impact of visa liberalisation on countries of destination
Beneficiaries of international protection travelling to their country of origin
Attracting and retaining international students in the EU
In May 2018 EMN published an updated version of the Asylum and Migration Glossary (EMN Asylum and Migration Glossary 6.0). New edition of the Glossary contains more that 450 expert terms and their translation into 23 European languages including Slovak. The Glossary is available online on the European Commission website and as a free mobile application for Android.
From January to December 2018 EMN organized 11 expert meetings and events including EMN Working Breakfast with Journalists and the 6th EMN Educational Seminar on Migration, where experts from international organisations, various institutions and non-governmental sector had been lecturing on causes and consequences of the forced migration. Lectures were delivered to more than 70 representatives of state and public administration, non-profit sector and academia. The seminar programme included also an EMN discussion evening entitled Migration Caused by Climate Change.
In 2018 EMN in Slovakia provided answers to 62 Ad Hoc Queries and launched four Ad Hoc Queries. The EMN Ad-Hoc Queries represent a system based on which the EU Member States and Norway exchange relevant information for the policy making, legislation drafting or for other strategic topics in the field of migration and asylum.
European Migration Network – EMN organises working meetings and expert events, prepares responses to ad hoc queries and elaborates publications by which it provides up-to-date, objective, reliable and comparable information on migration and international protection to European Union, its Member States and public. The EMN has its National Contact Point in each EU Member State and Norway. In the Slovak Republic the activities of the EMN are coordinated by the International Organization for Migration (IOM).
For more information visit: www.emn.sk.