In 2017, IOM provided integration counselling to almost 3,400 clients, organized the EMN Educational Seminar on forced migration and assisted 46 foreigners in returning from Slovakia to 19 countries of origin.
Read more about the results of the IOM Slovakia key activities for 2017.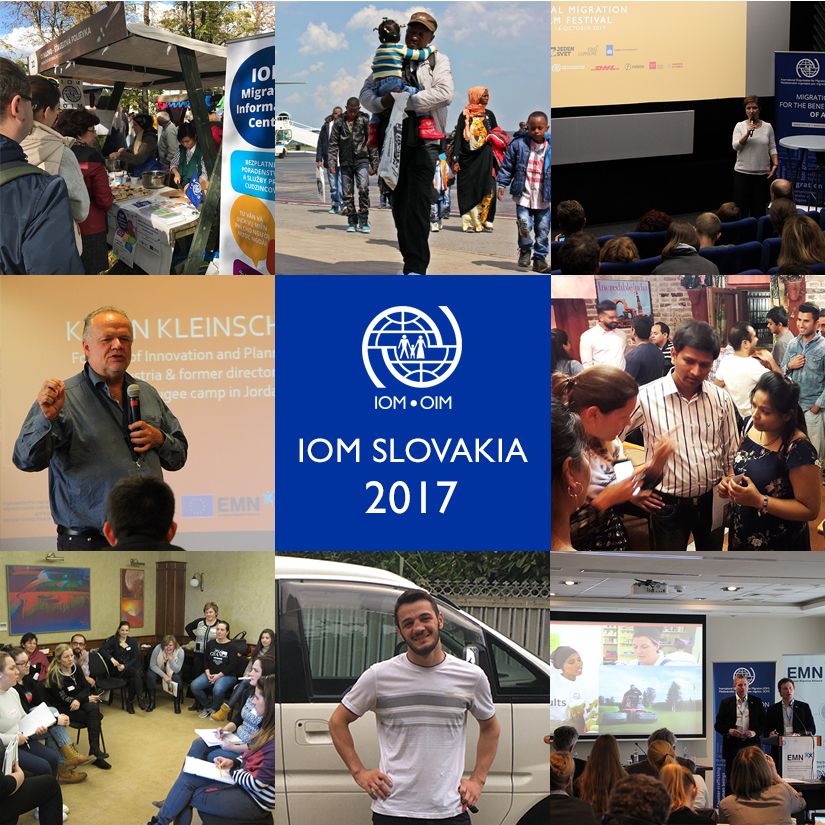 IOM Migration Information Centre (MIC)
In 2017 MIC staff in Bratislava and Košice provided 5,183 personal, telephone or e-mail consultations to a total of 3,375 clients on residence, family, employment, business, education or citizenship in the Slovak Republic. The MIC services were mostly used by clients from Ukraine, the Russian Federation, Serbia, India, Iran and the United States.
The MIC website www.mic.iom.sk is a unique source of legislative and practical information for foreigners about important aspects of life in Slovakia. Information on the website is available in Slovak, English and Russian language. In 2017 125,193 people visited the MIC website.
In 2017, MIC launched a new web application Visa Check for foreigners from all around the world who want to come to Slovakia and need information about visa requirements to enter the country. The application also provides information about what type of residence is needed for study, work or doing business in Slovakia. In 2017, the application provided answers to almost 1,425 requests for information on entry into Slovakia from 114 countries.
MIC also supports foreigners in their integration into the labor market in Slovakia. In 2017, it provided counselling to 592 clients in order to help them with orientation in the labour market, preparation of the CV and for a job interview, communication with the employers, job search or job mediation. Moreover, additional 34 clients have completed retraining courses with the MIC financial support to increase their chances at the Slovak labor market.
During the year, the Centre conducted 2 One-Stop Shop Counseling Days in Bratislava. Foreigners could benefited from integrated advice of employees of Foreign Police Department, Labor Office, Health Insurance companies, Trade Licensing and Registry Office, Social Insurance Agency and MIC consultants in one place.
In 2017 the Centre also organised a free Open Slovak Language Courses for Foreigners. The courses were attended by a total of 1,055 participants in Bratislava and Košice. The courses of socio-cultural orientation, which help foreigners orientate themselves in important areas of life in Slovakia, were attended by 202 participants.
In 2017, MIC updated and published fact sheets on entry visas and residence of foreigners to help them better understand thebasics of life in the Slovak Republic.
Additionally, the Centre also provided counselling for unaccompanied minors in the facilities of the Social and Legal Protection of Children. The services included, in particular, the Slovak language courses and individual legal counselling.
MIC representatives has continued with providing expert consultations during trainings for consular officers who were appointed to work at the embassies of the Slovak Republic abroad. The trainings took place at the training centre of the Ministry of Foreign Affairs and European Affairs of the Slovak Republic.
The Centre cooperates with 11 cultural mediators – representatives of communities of foreigners in Slovakia.In 2017 it held 11 Welcoming Slovakia information meetings for more than 300 participants. At the meetings, foreigners get practical and useful information about life in Slovakia. It is also a platform for networking, information sharing and cultural exchange between communities of foreigners and the Slovak Republic.
The MIC is the counseling centre of the International Organization for Migration (IOM). Since 2006, it has been providing foreigners with services helping them with social, economic and cultural integration in Slovakia. It provides a comprehensive integration, social and vocational counselling to foreigners, promotes their inclusion into the labor market, organizes Open Slovak Language Courses and courses of social and cultural orientation, provides them with important information about life in Slovakia, and supports the community life of foreigners.
For more information visit: www.mic.iom.sk.

Migration Information Centre to Support Integration of Migrants in Slovakia (phase IX, Individual Project). This project is co-funded by the European Union from the Asylum, Migration and Integration Fund (AMIF). Home Affairs Funds.
Assisted Voluntary Returns and Reintegrations
In 2017 IOM assisted 43 foreigners with their voluntary return from Slovakia to 19 countries of origin. The majority headed to Ukraine (9), Iraq (8) and Vietnam (5). IOM provided reintegration assistance to 22 individuals and families in 12 countries – Afghanistan, Georgia, India, Iraq, Moldova, Pakistan, Serbia (including Kosovo), Ukraine, Vietnam and for the first time also in Ghana and USA – in order to improve their living conditions after they return home. Migrants used the assistance mainly for starting up their business activities to provide livelihood for themselves and their families, for temporary accommodation or for housing reconstruction.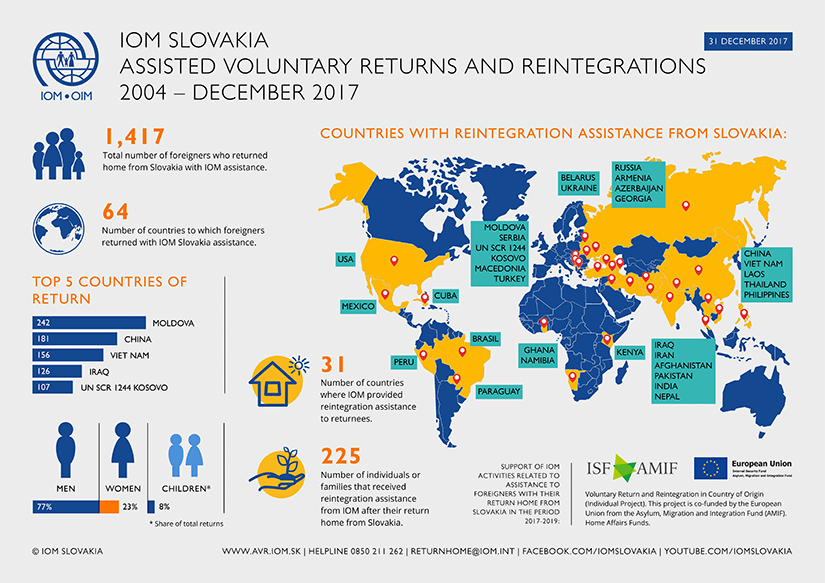 Read also: AVRR programme statistics since 2004.
Within the framework of the Assisted Voluntary Returns and Reintegration Programme (AVRR), IOM provides assistance to foreigners who do not have residence permit in Slovakia and who no longer can or wish to stay in Slovakia.
As a part of the AVRR programme, migrants can benefit from a number of services provided by IOM: return counselling and preparation of return, assistance with issuing of laissez-passer (substitute travel documents), transportation tickets, temporary accommodation, food, medical care, which can be provided until the date of departure. During the return itself, IOM assists foreigners with transportation within Slovakia, departure and transit assistance at the airport and if necessary also with transportation following their return home.
An important part of the programme is also the reintegration assistance provided to returned migrants. They can use the assistance for stabilization of their situation and improvement of their living conditions following their return home.
For more information visit: www.avr.iom.sk.

Voluntary Return and Reintegration in Country of Origin (Individual Project). This project is co-funded by the European Union from the Asylum, Migration and Integration Fund (AMIF). Home Affairs Funds.
Counter-trafficking
In 2017 IOM operated its information line on trafficking in human beings and safe travel. Its staff responded to inquiries about the verification of work agencies, and in two cases identified a suspicion of trafficking in human beings, which was further reported to the National Unit for Combating Illegal Migration of the Bureau of Border and Alien Police of the Presidium of the Police Force.
In 2017, IOM assisted 1 victim of trafficking in returning to Slovakia.
Between January and December 2017, IOM trained another 32 professionals of different professions who are working predominantly in prevention activities of vulnerable groups of population. As a result, the trained preventists from cultural edifying centers and the police corps, city police officers, Centers of Pedagogical and Psychological Counseling and Prevention, city authorities and teachers from different cities of Slovakia can spread the word about the risks and prevention in human trafficking via innovative media such as the web www.bezpecnecestovanie.iom.sk or mobile application Safe Travel & Work Abroad.
IOM in Slovakia conducts various prevention activities and information campaigns on trafficking in human beings, educates and strengthens the capacities of government experts and helping organizations in the prevention, identification of victims and care for victims of trafficking in human beings. IOM also prepares informational and educational materials for teachers, lecturers, preventists and other professionals.
For more information visit:
IOM Activities in Counter-Trafficking in Human Beings
www.bezpecnecestovanie.iom.sk
www.safe.iom.sk

IOM educational activities in counter-trafficking in human beings in 2017 was financed by the Ministry of the Interior of the Slovak Republic, which acts as a coordinating body of comprehensive care provided to the victims of trafficking.
Humanitarian Transfer of Refugees
In 2017 IOM transferred 4 refugees to the Emergency Transit Center (ETC) in Humenne. During the year, 43 refugees were resettled to the USA and Sweden with the assistance of IOM and its partners.
The programme of Humanitarian Transfer of Refugees through Slovakia has been ongoing since August 2009 based on the trilateral treaty between the Government of the Slovak Republic, the UN High Commissioner for Refugees (UNHCR) and IOM. Refugees under the protection of UNHCR are transferred by IOM from refugee camps to Slovakia, which thenprovides them with a temporary shelter on its territory. During the period of 6 months, they are accommodated in the Emergency Transit Centre (ETC) in Humenné. Here the refugees are interviewed for security reasons, undergo medical examinations and cultural orientation course to help them prepare for life in a new country. Afterwards, IOM transports them from Slovakia to the country of final resettlement giving the refugees a new home.
The activities of IOM in this project are financed by the US Government through its USRAP Program – United States Refugee Admissions Program or by similar programmes of other resettlement countries. IOM vaccination activities are financed by the US Department of State and Department of Health and Human Services.
The Activities of the European Migration Network (EMN)
In 2017 the EMN published the Annual Report on Migration and Asylum Policies 2016 and has worked on four studies:
Challenges and Practices for Establishing Applicants' Identity in the Migration Process;
Effectiveness of return in EU Member States: challenges and good practices linked to EU rules and standards;
Changing Influx of Asylum Seekers in 2014 - 2016: Member State Responses;
Approaches to Unaccompanied Minors following Status Determination.
The EMN also contributed to a new update of the Asylum and Migration Glossary.
From January to December 2017 the EMN has organised 10 expert meetings or events – among them also the National EMN Conference on the Role of Municipalities in the Integration of Refugees and the 5th EMN Educational Seminar on Migration entitled Addressing the Needs of Forced Migrants in the 21st Century, where 17 experts from international organisations, institutions and non-governmental organisations lectured about migratory trends and international governance, enhancement of safe and legal pathways for migrants, protection of migrants, and empowerment of refugees of the 21st century.
EMN responded to 98 ad hoc queries that represent a system on the basis of which the EU Member States and Norway may exchange relevant information for the policy making, legislation preparation and drafting or on other strategic topics.
European Migration Network – EMN organises working meetings and expert events, prepares responses to ad hoc queries and elaboration of publications by which it provides up-to-date, objective, reliable and comparable information on migration and international protection to European Union, its Member States and public. The EMN has its National Contact Point in each EU Member State and Norway. In the Slovak Republic the activities of EMN are coordinated by the International Organization for Migration (IOM).
For more information visit: www.emn.sk
EMN National Contact Point in the SR:
You can read also:
The IOM 2016 activities and results.
The IOM 2015 activities and results.
The IOM 2014 activities and results.
The IOM 2013 activities and results.